Herb Aach: Reviews
Lowery Sims on paintings of 1950s-1960s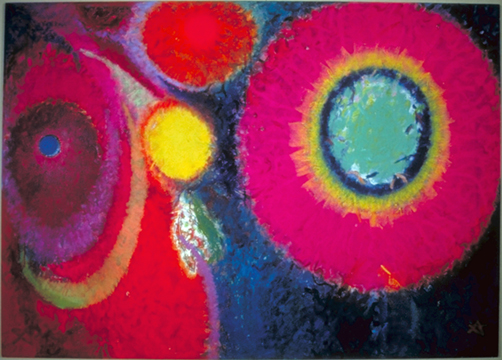 Three Muses, 1967, 62"x74"
When Herb Aach's artistic and teaching career was cut short in 1985, after a long and stubborn bout with cancer, there were many of his friends and colleagues who were taken by surprise by the paintings produced early in his career that were exhibited as part of a memorial exhibition at Queens College. Most of us were familiar with Herb's preoccupations with color, his well-known translations and explications of Goethe's color, and his prolonged explorations of color relations in circular formats that form his astral series of paintings, entitled Split Infinity. What exposure to the exquisitely crafted abstractions/landscapetions shown here did was to inspire the interested to review the artist's career in reverse, thus discovering an intense and exhaustive query not only into the nature of color, but also into color as light. Although he resisted comparisons with Josef Albers-dismissing that artist's Homage to the Square series as "landscape painting"-Aach pursued his inquiries with a persistence that was very "Albersian." The artist's journal, which he kept in an obsessively precise script throughout the 1960s and 1970s, reveals not only the precise formulations of the color mixtures and the experimentation with mixing early versions of acrylic paints, but also a fascination with day-glo colors and phosphorescent colors that seem in an ironic way to mirror the psychedelic hallucinations of an age that was infatuated with alternative vision and perceptual experimentation. Thus a work like "Three Muses" presents an astral imagery that is pleasantly complementary to the visions of an older artist such as Richard Pousett-Dart, as well as being a very individual take on the nature of seeing color, not only in nature, but also in the artificial illumination of the studio and in the gallery.

In retrospect Aach's work is a fascinating study coming in the early 1960s, just when color field painting and the cool reductionism of minimalism is gaining notoriety along with the consumerist banality of Pop Art. In spite of it's excruciating gestural delineation, Aach's work eschews the mythic pretensions of his stated nemesis Pollock, and at the same time to be a means to paint past the Cubist grid of de Kooning. Aach achieves in his work what de Kooning would in the 1960s, that is, the articulation of the individual paint stroke in a way through which they can begin not only to define mass and color but also to create space.
from Lowery Sims, essay printed in the "New York: New Venue" catalogue of Mint Museum, Charlotte, North Carolina, 1987, pp. 32-3

Lowery Sims is currently the director of The Studio Museum in Harlem and was formerly Associate Curator, 20th Century Art, at The Metropolitan Museum of Art


Louis Finkelstein on paintings of 1950s-1960s
Here color plays a role in constituting the basis of the imagery in ways which relatively few artists have explored, for it is the physical, the optical, as well as the allusive aspects of color which play a major role. ... His work is a species of symbolism which moves past decoration, and past sign, designation, and reference to an internalization which only formal contemplation completes. The paintings invite long, slow study, observing groups, rhythms, harmonics and dissonances, embodying in visual form the resonances which the lyrics of Baudelaire or Mallarme bring to mind or the reveries which deeply structured music awakens in us. Unlike the expressionism that rides solely on the identification of subject matter, and equally unlike a color-systemic art that appeals to our sense of mathematical elaboration, these paintings recall those reliquary jeweled encrustations into whose depths Abbot Suger, the founder of Gothic art, used to gaze to discover, enraptured, the intimations of another order of reality.
From Arts Magazine, February 1986. by Louis Finkelstein, page 109, reviewing the Memorial Show at Queens College Godwin-Ternbach Museum.


Louis Finkelstein on Aach's first serial paintings of 1960s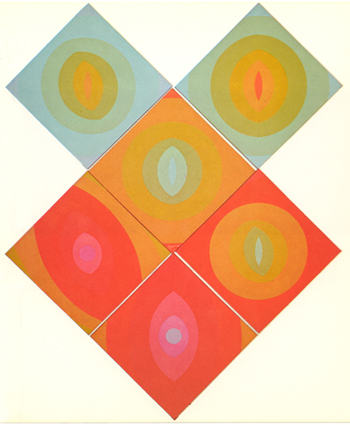 Paintings 5DS, 5D, 4D, 1DS, 4DS, 1D, 1969, each 45" x 45"
Serialization, which is a natural technique of musical composition, has become a fruitful way of projecting new notions of the interplay between various components of a work of visual art. ... [Serialization has fostered] the flowering of new insights into the role of many factors--perception, intuition, technique, and association. A case in point is a cycle of paintings by Herb Aach ... As with Monet, the cycle contains invariants of motif and format together with serial exploitation of variables, chiefly relating to color. ... The interaction between the purely systematic rules of Aach's program and the roles allocated by it to perception, intuition, and technical know-how is novel and precise.

[In this cycle] twelve colors are arbitrarily assigned ... starting at any point and going around in sequence. ... [The] color sequences from area to adjacent area in the painting must be analogous. The pigments which Aach uses create much greater flexibility in obtaining precise hues of approximately equal chroma. Because they are ultraviolet shielded, they are also satisfactorily durable. ... The result was beautiful ... It would be doubtful, or at any rate extremely difficult for any color reproduction to produce the effect. The beauty was not necessarily the result of seeing other members of the series or any relation schematically among them. It inhered in each separate painting.

What is the sense of all this? ... Because they are controlled, precisely because the program minimizes extraneous associative material, because not only method but factual knowledge and plastic intuition are focused on these visual interrelations to the exclusion of both randomness and emotion, we can deepen our recognition of qualities of color and form. For many, the austerities of the method will appear passionless, but then they will have known only a certain kind of passion.
from "Color as System," by Louis Finkelstein, Craft Horizons, vol XXX, #2, Mar/Apr 1970, p.42, which reviewed an exhibition at the Jacques Seligmann Gallery.

Craft Horizons is now American Craft Magazine, published by American Craft Council.
Noel Frackman on Precession of the Equinoxes 1974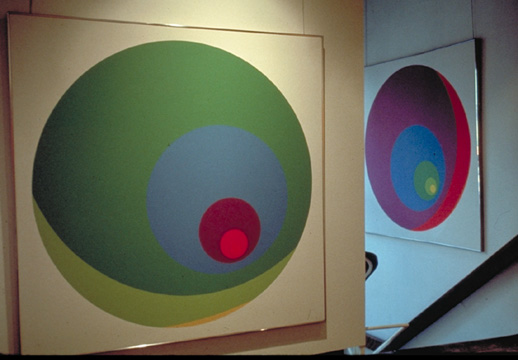 Installation at Martha Jackson Gallery
At first glance, the format of Herb Aach's paintings appears to be simple. Smack in the middle of a square 74" by 74" canvas, with a white gesso ground, is a large circle containing a core of smaller circles in bright colors and gradually enlarging circles which seem to spin off the main round form. Intense hues evenly inhabit the circular forms: clear orange, a lush green, a glowing violet and other highly saturated colors. They seem to be handsome, uncomplicated paintings and indeed the sense of handsomeness persists. As one begins to compare the twenty-six large acrylic paintings, marked differences assert themselves and the works become increasingly complex. In each painting, the main axis shifts slightly and each circle sequentially becomes a different color. ... Suddenly, the circular format seems to become spherical and the viewer discovers spatial progressions while also responding to an absolutely flat color shape surface. Simultaneously, color and form appear to project from the canvas like a cone or, conversely, to deeply recede, yet at the same time a flat rhythm is established across the surface of the canvas. Each painting then begins to evidence itself as a complete universe ... and achieves a fresco look so that the circular color form image does not separate from its square white background and become an object. Each color area contains four to six coats of paint and a single canvas may hold a load of seven quarts of paint.

Aach refers to these works as "sequential serialized color form painting" and the show itself is called Precession of the Equinox. The latter title refers to the tendency of the the paintings to have a color expansion (or color pull) towards the west, just as the earth itself has a westward drift and an eccentric off-center equinox because of its particular shape.

While thoroughly programmed, individually and together, Aach's paintings do not elicit a computerized response. It is astonishing that they eventually reveal themselves as systems because the viewer is instantly caught up in color activity. Remnants of the artist's pencil drawings remain at the edges of the paintings, as if to underscore the personal working process that lies behind the programming. As we expect accelerated and intensive color experimentation during the next decade, Aach is indeed a pioneer.
from Noel Frackman in review of Precession of the Equinoxes at Martha Jackson Gallery, New York, in Arts Magazine, Sept. 1974, p.74.
Natalie Edgar on Split Infinity 1977
Split Infinity # 22, # 23, and # 25, each 74" x 54" (Gramercy Fine Arts Gallery)
In Herb Aach's recent work, a series of [25] paintings ... each is the same size spaced at even intervals and so similar each to the next that only by skipping ahead in the series do changes become obvious. Together the series might plot a celestial happening in which a brilliant chromatic moon appears within halos of color. The sequence of a light spectrum governs his hues-glassy green, manganese blue, chemical blue, ultramarine, magenta, infra red, orange, and yellow. ... From the viewpoint of the sensual threshold in the first few seconds of its life, what strikes the viewer's sensibilities before all others? It is the blatant three-dimensional illusionism of Aach's space. His Split Infinites bulge in the room aggressively like bullets. ... Though Aach plans his color sequences and figure variations like a logician-seemingly without passion-he is rebelling against the primary dogma of both field painters and minimal painters. "Be flat" is their first commandment. ... The current dogma of geometric abstraction may have become too tyrannical. Aach for one is finding release through perspective and movement. By using the curve and circle Aach feels he liberates space from the reference of the frame and releases it into free space around the painting. ... To coincide with his moving space, Aach devises a color sequence that moves congruently. It is a spectrum that progresses chromatically. It forces the eye to jump, to hop, and never fix at one spot. It has an internal impetus to go forward and never interacts with neighboring colors. To see one painting or the whole Split Infinity series in sequence gives the viewer the "impression that he is on a moving train looking out."
from Natalie Edgar, review of Split Infinity series exhibition at the Aaron Berman Gallery and the Gramercy Fine Arts Gallery, New York, in Arts Magazine, June 1977, p. 16

Click here for artist's statement about these works.
---
Copyright (c) 2008 by John Aach and Doris Aach